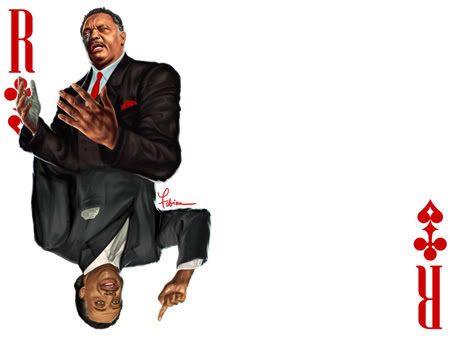 Editor's Note:
I was given the opportunity about a year ago, to talk to a young artist that was working on some projects that brought social dynamics and racial politics to the art scene in various pieces. The pre-interview story from my editor was that this artist, Fabian Williams, otherwise known as the "Occasional Superstar," who had done some work with his fellow Atlantans and seminal '90s hip-hop duo and Southern rap vanguard OutKast, had produced an actual deck of "race cards" to employ in various social situations, when warranted. One deck was for situations where white people had been afflicted with the politics and the other: for blacks who had been similarly exposed. The fact that the concept was highly entertaining and more than just a bit sensational amid the dominance of the cross-your-fingers, disingenuous tolerance of political correctness; and that Fabian is an artist of merit, noting how many bandy about the term "artist" like a Nerf Screamer circa 1993, intrigued me. What follows is my remote interview with Fabian, and a look at his project known as "The Race Card."

RACE is perhaps America's most thorny walk-on-egg-shells, "let's agree to disagree, in order to be civil and avoid an all-out brawl from happening,"-type issue. In a conversation where stereotypes, history and emotions muddle the discussion, one needs a mechanism for honesty. So what better way is there to discuss race in America, than making a literal and employable "race card," and therefore removing any subtlety and nuance, whilst providing the opportunity of physically flinging it at offenders, as a form of confrontation, when necessary? Funny, right?
Now, depending on your nature (non-confrontational, confrontational, or just plain "crazy") this may seem like a genius idea, or a disaster waiting to strike on the horizon. Since my nature tends to lean somewhere between confrontational and out-and-out "crazy," I happen to believe that removing any of the social pleasantries from the discussion may be what is needed and graphic designer and arm-chair sociologist, Fabian Williams, the mastermind behind a set of cards called 'The Race Card," which features such controversial figures as Bill O'Reilly and Al Sharpton, is one to agree. So I decided to have a little chit-chat with the man behind what I call a "Genius Deck."
So, Fabian, tell us about the origins and motivations behind this particular project of your's and its companion Web site…
It all started one day, when I was having a discussion with some guys in the office where I was working at the time in Atlanta. We were talking about what we thought was the most racist movie ever. From my point of view, it was King Kong. They were shocked because they didn't see the racism in it. I explained to them that there were some suspicious metaphors operating in that movie: [A] giant, savage, black gorilla surrounded by natives; has an obsession with blondes. I thought it was the white man's fear of the black man's strength and prowess: a big, savage black man chasing after and tainting the pure, fragile white woman; ironic because it was usually the white woman that was obsessed with what she thought a black man could do.
And just like most blacks at that time period who would dare deal with a white woman, King Kong met with a violent death. After making that argument, with some sound bites from Brown vs. Board of Education, it was agreed that my point of view was valid. Soon after that, my coworker, Cliff Fretwell, placed a piece of paper on my desk with an 'R' on the corners and Al Sharpton's face on it. He gave me a "Race Card" to play on people, whenever I had a point to make about a racial situation. A light bulb went on in my head…
Race is an issue that is played up for laughs by comedians and many people within ethnic communities, and even outside of them, and humor is honestly a vehicle for discussion. Does the Race Card project fall into this category of using comedy to elicit discussion?
It's definitely a mechanism to lighten the mood about a serious subject. Most racism today is subtle, so I figured what better way to put it out there than a sort of referee flag. It's like when you're watching a football game, and you don't see anything wrong but you see the ref drop the penalty flag. Then you watch the replay and realize; "oh, somebody got violated." You have to call it out. Otherwise, it goes unnoticed. Then you have riots.
Are you at all worried that this project may rub some people of a more politically correct disposition the wrong way?
It definitely depends on the user. I use the Race Card to bring the issue to the forefront, but make it funny. I like to act like I just scored a touch down to make light of the point. We laugh but at the same time, I'm making a point, "Watch that…"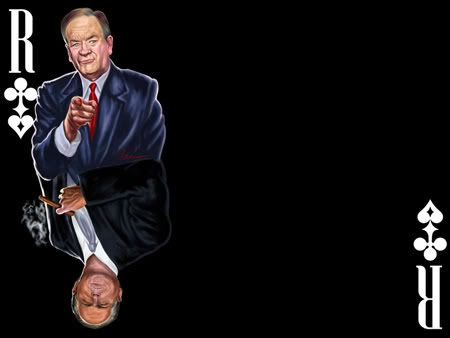 Can you explain the reasoning behind the figures you use on the card faces?
After much conversation with my peers, I decided to use Al Sharpton and Jesse Jackson because when it comes to racial issues, let's face it, these two come to mind. I figure it's a way to take the power of Al and Jesse with you. The funny thing is, news networks complain about Sharpton and Jackson, but always call them when something goes down. Rush Limbaugh and Bill O'Reilly are never called "race hustlers," but always offer their opinions and view points of the conservative base, which I translate: as the Christian white male. I thought if there were going to be a white card, those two would be the ones to represent the argument from the other side. I almost picked Sean Hannity, but I decided on Rush at the last minute.
Now, how does one use these cards in a "situation"?
If a white guy comes to you and says, "'Bro (brother), you're cool, you're not like most black people." You could then say, "Oh, thank you. You mean I'm not like the rest of those niggas, thanks for noticing. Here, you hold on to this." You hand them the card and you walk away.
Is this as tongue-in-cheek as it seems, or does it come from a place of real desire to confront in a new way? (Regardless of any actual and possible card flinging.)
Absolutely. Today's racism is covert and a little difficult to discuss. The Race Card brings a lighthearted element to the arena. The only way to get rid of it is to bring it out in the open and dismiss it.
Are there any future projects that you would like to tell us about, that are as novel or of the same vein? A board game, perhaps?
No board game, but I do have plans for a gay card, a Latino card, a line of playing cards based on illustrations I did of the 2008 presidential candidates, and a line of hip-hop themed cards called The Deck, that I concepted initially right after Tupac passed in 1997. I am finally getting around to finishing it. Guaranteed, you've seen nothing like it. You can get The Race Card at racecard.tv, for now. Look for the Great Debate in the next month and The Deck soon after. For more information on Fabian and his projects [Here]
For more on "The Race Card" [Here]