I DON'T KNOW if I hold any more romantic a view of a machine than that which I hold for the F-86, especially given my considerably pronounced romanticizing of war-birds. There was just something about its placement in the annals' intersection between the modern jet-age fighters of now and the propeller-driven battlers of yesteryear, that makes it stand apart. Being one of the first of the American jets to see heavy air combat before the advent of modern weapons systems, it still remains pure in the mind for me, and still just so much of what a little boy — where much of the inertia behind military aircrafts' popular culture presence resides — would seem to think a jet would look like; on top of everything else that it brought: From being a versatile combat workhorse to its survivability and maneuverability.
And mind you, this was a design made far before the later iterations of the fighter jet genetic line of my youth and (now) adulthood, which had me first absorbing the signatures of the F-14, F-15, F-16 and now and for sometime into the future the F-22 and the Joint Strike Fighter (J.S.F.) — as ugly and as troubled as the J.S.F. is — into my concept of "The ideal of the Fighter Plane." The F-86 was also one of the first and final stick-and-rudder jet fighters. It came along before computers took over the cockpit and made for a different experience altogether: higher, faster, more acrobatic; but not as much pilot versus pilot.
The pilots had to fly this completely, which was more challenging in the jet age, because of the speed creating smaller margins of error; there were none of the fancy systems of now to keep it stable or to enhance its abilities against the pull of the laws' of gravity and rules of physics. It was from a time when the jet was still primarily an extension of the pilot and his skills, and not an extension of vaster power imbalances between nations in regards to technology, wealth and research and development, as it has become today.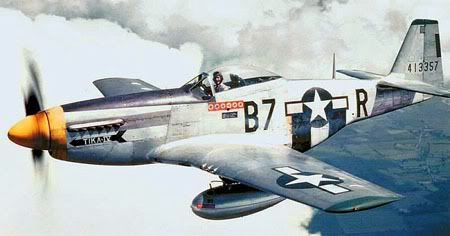 Photo Credit: Gizmodo
And in a way, all of those late '60s and early '70s designed aircraft of my youth, which went operational in the 1980s all looked the same — with their sleekly pointed noses envisaging a predatory beak and utilizing hyper-aerodynamic, weather-beaten, sand-dune looking silhouettes — particularly for the epochs and technological generations they inhabit. North American's F-86 was not that. It was not an aircraft representative of its respective time. It is in retrospect the jet version of another beloved, classic air foil of mine, the P-51 Mustang (photo above), produced by the same manufacturer. The P-51 was a World War II leap in propeller fighter technology, which went head-to-head against Nazi ME-262s, the first jet planes, and won many if not most, of those battles.
The F-86 "Sabre," as it had become to be known, was a sleek first generation 1950′s comic-book drawing of a jet aircraft come-to-life, a plane which earned its respect in battles against an opponent falsely rumored to be its superior, the Russian MiG-15. But it is its style more than its storied operational  successes, while in service with many N.A.T.O. countries, that grabs me. Style is something odd which we project onto it now as aviation enthusiasts, but it was obviously an afterthought. Plainly, the thing had to fly and fly well, and aesthetics mattered not a bit, as it was designed to be the protagonist in a struggle against Russia and became a figure in some of the most intriguing and brutal dog-fighting in history.
And so its beauty comes from the pitch-perfect execution of its more utilitarian concerns. It was a silver bullet with wings and a bubble canopy, perfect for a pilot engaged in an ever-expanding, three-dimensional chess match at 580 mph, tens and thousands of feet over the land.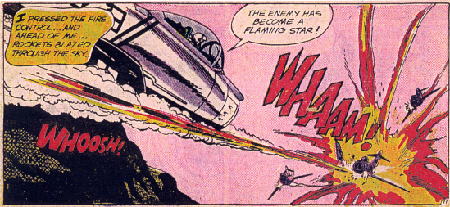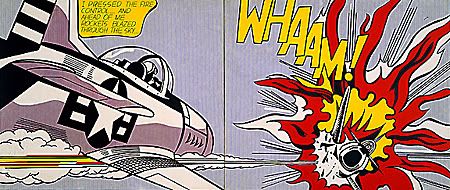 A part of me wants to say that it was more along the lines of something from Buck Rogers, and another part of me wants to say that it was of Disney's Tommorowland. It just wholly spoke to a kind of 1950′s pop-culture futurism evident in the culture. It was simply one of the smoothest plane designs ever encountered; like some beautiful Bang & Olufsen-meets-late-'90s-and-early-21st-Century Apple creation, an industrial design that could've been mistaken for art.
In fact, there was a comic book All American Men of War panel (the first illustration above) dedicated to the plane, which was later adapted by Roy Lichtenstein in "Whaam!!" (directly above, panel 2), to avoid the accusation of plagiarism, and which was ironically made to depict a P-51, the Sabre's cousin from the propeller age, in a piece that seemed to capture this spirit of the Sabre, in the pop-mind.
It was a reputation that the F-86 famously earned by burning its foes in the skies over Korea, where it dueled both North Korean MiGs and (secretly) Soviet piloted ones, who were used as an auxiliary force, in the infamous "MiG Alley." During this process it became something greater than a mere beautiful assemblage of parts, but an absolute affirmation of America's dominance in the skies, against any and all communist air power.