Photo Credit: Dr. Lakra
THE 2005 BOOK FREAKONOMICS  was a resounding hit. The authors, Steven Levitt, a University of Chicago economist, and Stephen J. Dubner, a New York Times' journalist, looked to explain the world through economics and the lens of the transactions that govern daily lives. The project eventually spawned a film (and blog) in 2010, where various directors were enlisted to explore sections of the original book. In one of the more salient moments of the film, the section entitled "Pure Corruption," written by Peter Bull and directed by Alex Gibney of Taxi to the Darkside, the authors relay a case study concerning how the perception of "purity" in environments, such as those in Japan and its cultural mores, facilitates the cloaking of cheating.
A philosophical cornerstone of Japanese society is the ideal of honor, promoted by the nation's dominant religion, Shinto. This permeates any discussion of corruption in Japan: from individuals' motivations to how it becomes systemic. But Shinto's principle of honor has helped the country consistently rate among the lowest across nations in measures of corruption. [Japan scored an "8" this year according to Transparency International's 2011 Corruption Perceptions Index on a scale of ten, with "10" meaning "very clean" and "0" meaning "very corrupt."] So while Japanese society is not considered corrupt, there are, nonetheless, warrens which exploit that reality; specifically those elements walled-off from everyday society, say like those activities of the yakuza.
In Japan, Sumo is sacrosanct. This is partly based on the facade of its entwine with Shinto, as even referees are presented as Shinto priests, but also it is the effect of its time-honored legacy and weave into the nation's culture. Sumo's rituals date back thousands of years, which further helps in representing the ideal of Sumo's honorability in the society. All of this provides it with an air of infallibility, an environment where Sumo's propriety is seen as beyond suspicion. The belief is that it shows no taints and therefore has no impurities.
Yet there is a great incentive to cheat because of the money, the high-stakes gambling surrounding the game and the reputation conferred to its wrestlers at the highest levels. The Japanese public learned this in 1996 when two whistle-blowers, one of whom was a former stable master — stables are Sumo's training communities, where young wrestlers begin their rise through the ranks and live together under austere (and many times physically abusive) conditions — who penned a tell-all book that included names, allegations of match-throwing, and which was re-printed in a series by the Shukan Post, exposed the dark-side of Sumo. Professional Sumo's governing body, the Japanese Sumo Association, responded to the allegations by claiming that the tell-all and its corresponding Shukan Post series were outright fabrications, and it roundly dismissed the printed accusations as the words of a vengeful man seeking publicity and compensation.
In response, the whistle-blowers decided to hold a press-conference. However, two weeks before that press-conference, both men mysteriously died on the same day, in the same hospital, from the same unidentified respiratory problem. Despite these extraordinarily odd circumstances surrounding the men and their demise, the culture of honor and its appearance of pervasiveness in Japanese life, led to an absence of inquiry by either of the deceased's families or the media. Everyone from the families to the nation's press, simply accepted the police's line on the matter, who said: "It's a very good hospital, and there were no grounds for suspicion."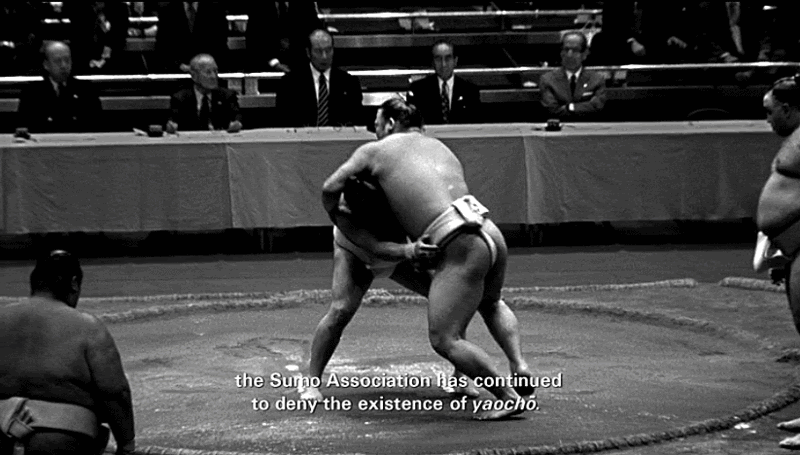 But when another young, in-training "rikshi" — directly translated to "strong man," but means wrestler — passed in what was initially explained as an accident, but whose body displayed visible signs of assault and mutilation; suspicions were again aroused throughout the country concerning the propriety of Sumo. It was found, only after an autopsy requested by the wrestler's father, that the young man was beaten by baseball bats and burned with cigarettes by fellow rikshi, whom he had trained with. The wrestlers were ordered by their stable master to punish him for attempting to run away. The incident sent a shock-wave which rippled through Japanese society, and the way in which murders were being investigated by the nation's law enforcement, came to the fore as a national issue and an example of an overly-imbalanced separation between Japan's dueling concepts of  "tatamae," meaning the perceived truth or appearance of propriety, and the "honnae," or the hidden truth. It is a Shinto philosophy that looks to sometimes explain moral dysfunctions.
This separation between the two versions of truth was so wide that it led Tokyo police investigator, Hiromasa Saikawa, to publicly question the procedures involved in conducting murder investigations, in the wake of the wrestler's death; particularly in a country where law enforcement regularly boasts an arrest rate greater than 96 percent. According to Saikawa, in Japan when there is a suspicion of murder, the police look to identify a killer, much like any country with an honest law and order system. But unlike in other nations, it is only if authorities can identify a suspect, do cops initiate a murder case. If there is no identifiable suspect, then a case can potentially be closed and ruled as an "abandoned body." This obviously manipulates Japan's crime statistics in such a manner, that it can't ever accurately be known what the nation's true murder rate is, or the police's ability to solve such crimes. Hiromasa Saikawa officially resigned the Tokyo police force in protest of this investigative procedure.
This kind of numbers rigging which governs Japan's police work is an important microcosm as it is a cultural red-flag that ties to Sumo, beyond those mysterious deaths that surround the sport. As in Sumo, as long as law enforcement kept its appearances and produced great numbers, then there was no need to question their propriety, regardless of schemes, because the "tatamae" — in this case, the widely-held perception of cops' honorable intent to solve crimes –  was met. But the data in Sumo, much like that of Japan's murder arrest figures, tells a story about (another kind of) numbers scheming: A systemic preponderance of corruption known as "yaocho," meaning match-fixing; which was long suspected, but still seen as unlikely by many.
To Japan's outsiders Sumo is a sport and an important pastime, but to its wrestlers it is a lifestyle and cherished community. Wrestlers live in a closed society, which they were raised in since they began training as youngsters. This fact, along with the sport being treated as above suspicion, only motivates cheating given Sumo's system, which operates on a hierarchy of ranks and money distributed to all its wrestlers, at every level; with every match promising a certain amount as one travels up this hierarchy, known as the "pyramid." The best parts of life as a wrestler, like anywhere else, accumulate at the top, and for only wrestlers with the best records. However, there is but a minimum threshold where this "good life" is bestowed, and so individuals' records matter, only to a certain point; in the sense that a better life is dispensed upon one's performance, determined by meeting that threshold.
In professional Sumo tournaments wrestlers wrestle one match per day for 15 days, with the eighth win of a wrestler being critical in the schedule, because it produces a winning record (say of 8-7), and allows him to advance and move up in rank. Otherwise, a wrestler could drop from the sekitori class, the highest division of Sumo, that is made up of the juryo and makuuci divisions, and where the most prestige and privileges in Sumo lie. The difference in half a rank in professional matches can be as much as (the equivalent of) $5,000 USD a month. As wrestlers attempt to rise through the stable system from the "jonokuchi," the lowest rung, to the "makuuchi," the sport's highest individual realm; wrestlers inevitably become friends and begin to understand that a blind-spot in the organizational architecture, is that the ranking system affords a better life for some, at no cost to others, at certain points. Since it is a system based on honor and trust; that all wrestlers will put up an honest fight.
This produces collusion that allows for many wrestlers to essentially win outside of the game, by being rewarded the fruits of victory liberally, with the assistance of their sympathizing buddies, who they've fostered relationships with since they were in the stables. The authors found that at the threshold between the seventh and eighth wins, when a rikshi is entering his final fifteenth do-or-die match between him and an opponent who has already gained the all-important eighth win, the wrestler who needs the eighth win, won an astounding 75 percent of the time; an incredibly odd deviation from the normal odds of it occurring.
It turns out that when two wrestlers meet and one has already secured his place within the pyramid, it is a common practice that he will usually help the other wrestler who needs the win more, and he will literally take "the fall," hoping at some point the favor will be paid forward. But when those two wrestlers happen to meet again, the wrestler with the better record, originally, going into that deciding fifteenth match,  wins a resounding amount of time according to the same data. It's a built in incentive, and is the result of the tight-knit bonds of the wrestlers' smaller society, and the presumption of purity in Sumo. Moreover, it keeps earnings high for everyone and fosters Sumo, as this money trickles down the pyramid.
What the authors conclude from looking at the case study of "pure environments," is that presumptions of honorable intent can produce systemic fraud, as in the case of the most recent American financial mess: The presumption of free-markets and good, honorable stewards such as Alan Greenspan or to a lesser degree, financial agents like Bernie Madoff; men who held pristine reputations in the finance world, led to the wide moral failure in the system to go unnoticed. The presumption of honest and fair-play throughout finance created by supposed oversight boards and transparency regulations and trumpeted by the examples of those men, averted attention and reserved our suspicions for far too long.