ASAP Rocky and This New Wave
by
Vaughn
Photo Credit: Billboard
"Peso," ASAP Rocky
LAST YEAR MAY MARK a moment of pivot; where everything changes deep within the subculture: implying a possible shift in the ethos of what comprised the corps of the near-exclusively Internet-popular and influential-blog touted rappers. And perhaps the rap blogs' editors, writers and readers took an unexpected side-step; their tastes moving from nerd-quirky, non-threatening, similar and bromidic artists; many of whom have now spirited themselves into the background. Of those now made apparitions, most exhibited an identifiable palatable appeal, lacking any sense of danger. And in that last Internet wave represented by Kidz in the Hall, The Cool Kids and a segment of the Web-popular artists circa 2008-2009, some of this cadre held an oddball interpretation of a played-out Native Tongues' ambit, and a care-free vibe that is hyper-positive and corny, now.
2011′s most visible rappers — who tow sizable Web presence — were a migration back to the unvarnished, sharper content and essence of the mid-1990s; the best epoch overall for hip-hop. This is particularly true concerning the interplay of the charts and unadulterated rap. The decade was a time where the industry computation for success was weighted toward hard-copy sales (since there was limited mp3 distribution, even going into 1999), Billboard rankings and radio play. All of which is now superseded by Itunes purchases, illegal downloads, streams, blog mentions and is encapsulated by the ever-dreadful marketing neologism known as "buzz." The '90s market was dominated by what even the mildly informed could distinguish as "authentic" hip-hop, boasting artists from the Wu-Tang Clan collective to West Coast audio pugilists like Tupac Shakur and Dr. Dre. By the latter part of the 1990s, though, commercial rap became truly about commerce, particularly in its spirit; it was dominated by pop-stylings attributable to the influence of "Puffy," his compatriot, Mase, and Will Smith; all of whom churned out artistically soporific, white-friendly work.
It was the obverse of hip-hop's origins; operationally a megaphone for the poor and ethnic minorities, while also a natural extension of jazz and rock's wanton escapism, and paralleling the frustrations of youth exuded in punk. It rose as an unintended consequence and protest to the social program cuts by the Reagan administration which were deleterious to the inner-city following the social policies of the Johnson Great Society years. And for the most part, aside from those recent detours in pop-commercial approaches led by Puffy, the genre dutifully reflected this reality and remained true to its origins, even if some of its artists were unaware of all that led them to become the soundtrack for the central-city and minority experience.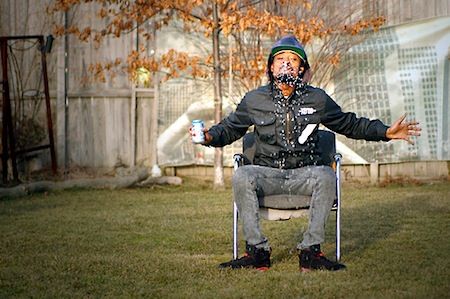 To name-check an album title from Murs of Living Legends, the rise of '90s dance-club rap with purely profit on its mind was "The End of the Beginning" for the archetype of successful '90s black hat-wearing rappers (literally and figuratively); a vanguard who were soaked in 40 ounce beers, street aura, external discussions of being the enemies to order and sometimes viewed as threats to the state. (Often by agents of the state themselves.) These were acts who held working-class capital with challenging, socially-cutting commentaries to match. They were local heroes, not shills for products. But fatigue in that hip-hop brand had set in and in the early to mid-aughts, gone was the model of "The Nigga You Love to Hate" of Ice Cube, pre-Disney movies, provoking thought, acceded by lavish lifestyle players and even more awful, on the outliers of the mainstream, shiny suit dancers who were some bourgeois Boomer's hip-hop take on Motown's the Impressions.
Many in the society longed to feel a kumbaya about the "underclass" element in society and particularly about race, itself, during the rise of pop-rap, and the "cut with sugar" sound meant that many need not make any concessions or face challenges in their perspectives and understanding to the cold realities and the mental disposition of the streets and the disproportionately minority, disproportionately poor and adversely affected by austere fiscal policies. It was an exceedingly low bar for entry into the circle and discourse and language of the genre. The only consistent presence of out-and-out establishment threatening hip-hop late in the decade and early to near-late aughts was left largely to Eminem, Dead Prez, Nas and sometimes Jay-Z. (Though Eminem was not as threatening sociopolitically, aside from his identity; he was quite shocking in regards to the most extreme taboos of social deviance. And while Kanye produced honed social commentary at times, his work leans more personal and aspirational, peppered with sociopolitical references.)
The long tail of the buoyant raps of the late '90s lasted into the mid-point of the 2000s with notable exceptions in Rawkus and other independent labels providing a small but impactful insurgency. In 2005-2006, rap blogs took rein over hip-hop's conversation and produced semi-stars on the Internet with somewhat paltry artistic visions, but who converged the discourse once left to Web message boards and the offline pop-rap scene and the larger hip-hop Internet universe of one-off tracks, album leaks and mixtapes. The blogs were looking to find their voice and sometimes this meant supporting the "different," but the different without lasting appeal, or those who were skilled but without much to say. One look at the underground and blog-supported rappers of the late 2000′s and this new decade, however, speaks a different story than the old one told about the genre once wading in the quicksand of the early and middle parts of the aughts.
Late 2010-2011 witnessed the most promising ascent of a school of edgier, elegantly skilled, seasoned rhymers who are much closer in tune to the '90s heyday in their themes, aura or full-on complexity and delivery. Artists like ASAP Rocky, Danny Brown, Action Bronson and those from the oft-mentioned Odd Future collective, rose our artistic expectations, again, and forced the mainstream, offline hip-hop business' world to take notice, as these acts gained love on the blogs, garnered magazine covers, editorial features, contracts, the support of the influential and the all-important respect in the streets.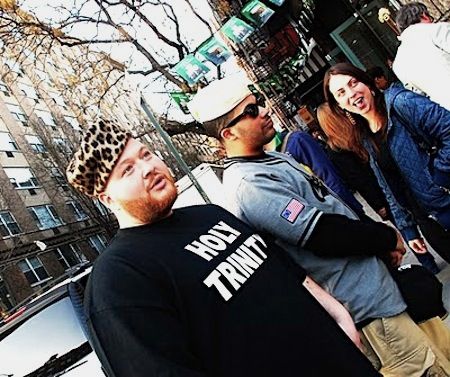 This newest rise in hip-hop without compromise has brought back a days-of-yore feel and a once-missing interlocution of the social underbelly, while also committing to what the genre is known for best; tapping the magnetism of this underbelly and gripping the linchpin of counter-cultural appeal. Both of which are what hip-hop in its purest form and what is still seen as "underground hip-hop" — using this term while I find it problematic when popular sites like Pitchfork, Fader and Vice promote out-of-the-main music values — has tended to be.
This class is a stark return in popular scale to the deft portrayals of nihilism, anti-establishment values, the utter destruction of the known; from the depths of a once rather bastardized, muted form of the art and particularly on the music blog scene. This bunch are coarser, more aggressive in their lyrical content and more appropriately hip-hop, conceptually, because they challenge tastes, expectations and popular notions of what's acceptable in rap. For example, Action Bronson, one of this new wave's luminaries is a ginger-bearded Albanian rapper with sometimes homage-like derivative allusions to Ghostface and Raekwon, who'd probably scoff at anyone frequently mentioning or talking about being a white guy who grew up on the block. It is plainly more interesting work richer than its alternative.
This wave is capable of producing imagery analogous to the morose beauty of a show such as The Killing and its dark complexity, which employs hauntingly gritty character portrayals and the grossly macabre, humanity-examining nature of urban police work, to tell a story about man. That juxtaposes itself against (with some exception): the dull, predictable, simplified, hyper-glossy big network television crime dramas, sold to mainstream America. Much like the many strands of hip-hop, glossy crime dramas and their darker, generally for cable equivalents do the same job and traffic in similar fare, but one is clearly less interesting and less thought-provoking. Nor does it feel as life-like, especially in a world where it's become "realer," and closer to the bone, for many.
Of this newest class of Internet-popular avant-garde flag-bearers there is a figure poised to be a breakout star in 2012 emerging in ASAP Rocky, a Harlem rapper who embodies the refreshing grittiness presented by the cohort, all of whom seem as novel as those very early days of Rakim, Boogie Down Productions and later, early Nas. Only these young men are sometimes wedded to the outlandish, spacy and downright nutty aspects reminiscent of Kool Keith and MF Doom. All of those artists also marked turning points in hip-hop, as this bunch will re-define the current and next generation of hip-hop artists who've first defined their existence and established their fanbase via the Internet.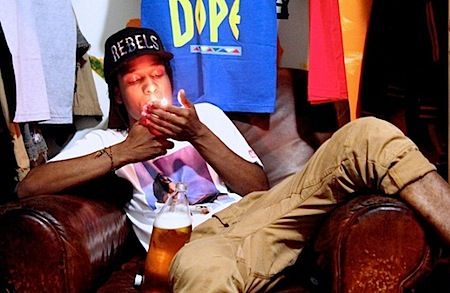 While his name has a homophone parallel to another rap vanguard figure from the early-2Ks in Aesop Rock, ASAP Rocky's handle results from the mash-up of his collective's acronym for themselves: "A.S.A.P." — "Always Strive And Prosper" — and his nickname "Rocky"; as he is, I kid you not, actually named in honor of Rakim, a man many believe to be the best rapper ever. And even more distinguishing, Rocky's rhymes are international in scope, an aberration in a genre known for it's "hyper-localism," to borrow journalists' lingo. And it is especially peculiar for a town as proud as New York, Rocky's home, the city that originated the genre, and a borough as important to the American arts as Harlem has been.
Yet hailing from the city where hip-hop found its provenance and the borough that is an important node in the history of black art and American art, in general, but rarely acknowledging of it in his content, he is even more essentially hip-hop by default, becoming everything beneath the canopy of "hardcore hip-hop" all at once: pushing the weed ethics of West Coast, the speedy rhymes of the Midwest, the drawl and medicated delivery of Southern rap, the drowned-out, underwater sound of lo-fi, experimental hip-hop and international trip-hop; and the alternative perspectives and imagery of groups twenty years before his time in Gravediggaz and Bone. And this is perhaps more New York than anything: taking all styles and assimilating them.
Further, he is, at times, the most alternative looking emcee on the planet, pushing the genre again, outside of the recording booth. He has abdicated the fashionably-boring looks, what some in the community dubbed the "Grown-Man" aesthetic, and which have become a uniform I'd expect from upper middle class buppies. Rocky eschews that for full-on ninja-inspired styles from the fashion-forward runway with a twist of global street style (think: Paris's banlieu), such as the masked mouthed youth so often seen in fashion blogs and recently in the London Riots. And it isn't a gimmick. There's a subversion in it that really is him, as far as I can tell, and it's what he has claimed he's been about since being an unknown teen crack slinger in Harlem. He first hit our radar with the videos for his tracks "Peso" and "Purple Swag," both extremely taut, well-produced forays which combined Southern Trill and brought about shades of Oakland's Too Short.
"Purple Swag" notably featured a grill-wearing, white suburban high-school cheerleader type reciting the lyrics that often used "nigga," which added shock-value for some who are still innately connected to the time-worn values taught by "racialism," and motivated by the juxtapositions of "underclass" images against the suburban middle class image and semiotics, and just exactly what a young white female teen means in our societal calculations of value, and the rigidity of those categories. But it also drew some laser-like criticism for the obliviousness of the white-black power dynamic in and of itself, and the history of that incendiary word.
It wasn't a completely non-obvious pairing, though, figuring hip-hop's large white fanbase; and to assume that some or many whites do not recite those rap lyrics they hear word-for-word is asinine, and, in my mind, while I wouldn't argue it's always acceptable, it does not (usually) equate to "racism." Intent, delivery and context should always be a consideration. (And particularly for this kind of hip-hop it is an obvious paring, since this category of hip-hop finds enthusiastic support from early-adopter whites who've formed and maintained often divergent and distinguishing identities, particularly in urban centers such as New York and L.A., as noted at Stuff White People Like or somewhat referenced in Norman Mailer's "The White Negro.")
In a Clams Casino collaboration which looks to explain him and his collective, entitled "Wassup," the video treatment for [above] was just released last week, he raps about his own anomaly and he addresses the possible backlashes within hip-hop and Harlem's streets spitting the bars, "pretty nigga in some shit you never hear of, only thing bigger than my ego is my mirror; clothes get weirder, money get longer, pretty nigga pin your hair up; 'the nerve of this dude,' but I'm cool as a fin, 40 ounce, full of brew." In the video, at times incongruous to the actual lyrics and which was produced in collaboration with Vice, he uses movies like Casino and Scarface (beloved in mainstream hip-hop), placing a twist on them, as the video is ostensibly about him selling his soul to the illuminati to become a rap cliché, though these moments are interpolated with scenes of him and his crew in and around Harlem, being everyday joes from the block. In one of the verses he does provide a moment of clarity, amid the mystery, before he awakes from the nightmare, where he raps:
I ain't talking about no money, I ain't talking 'bout no cars; [not] talking 'bout no diamonds 'cause that shit is a facade, times is really hard…
Rocky is the end-product of an amalgam within the larger culture and things that reside on its edges; things going on sociologically. (As in the case of all relevant rap.) It is what makes him perfectly set to be this wave's breakout star with only a mix tape so far — Live.Love.A$AP– and a full-length album still on the docket. Whether he acknowledges or is aware of it, young Rocky, is the gross product of the harsher world of the social Web that has helped everyone fine-tune the extensions of their actual self to an online persona, curating his "authentic" outsider, insurgent image to a tee. He is also the beneficiary of the expanded interpretations produced by the hip-hop world that has spawned around him: encompassing the battle perspectives of the hip-hop Web, where anything goes on chat boards, to the Internet fashion and lifestyle Web sites and  communities such as Superfuture and Hypebeast, who've undoubtedly helped a kid and his crew from Harlem identify and confirm the brands exalted in high-fashion, such as Rick Owens and Raf Simons.
And that itself, is also a tentacle and effect of the offline, hip-hop superstar overclass — if anything can truly be characterized as "offline" anymore — what with those frequent mentions of Maison Martin Margiela by Jay-Z and Kanye, and 'Ye festooning women's brand Céline, producing latitude for what is generally assumed to be a woman's realm, (high-fashion). Moreover, those brand-name mentions of extremely limited labels which have more in common with European versions of high-brow "luxe," but also seem edgy in the United States, not because of their price tag, but because of their outlandishness comparative to American taste and general limited appeal, transfer more mystery on to Rocky.
He is quickly becoming a positively strange, placeless vector for a new conception of hip-hop: conventional enough to be accepted, but unconventional enough to hold novelty, and his choices to routinely use Clams Casino's hazy, drowning beats and promethenzine-tinged hooks; it makes him less from New York, but representative of an ever-rising, unified street culture, as the Big Apple's rap sig now reads a bit overwrought now, 30 years later, but its imprint on the world still isn't. And in the end, like Rocky, isn't that just so very New York, to take the genre it invented and the clichés it became known for and bend them?… To give you characteristically Southern Master-P like rap, from a Harlem-bred Generation Y-er, or a gyro with Asian fusion ingredients?