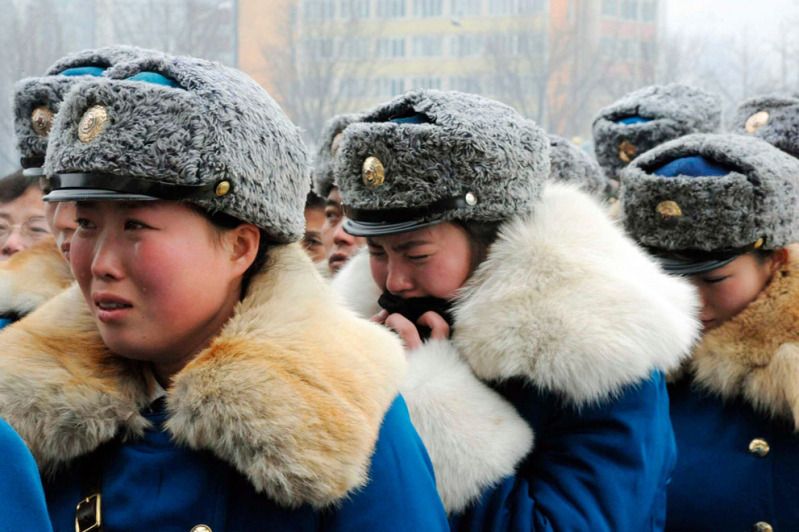 North Koreans have shown extraordinary displays of grief in the days since the death of their leader Kim Jong Il on December 17th. Today marked the start of a two-day funeral ceremony, as thousands of North Koreans lined the snowy streets of Pyongyang to witness the procession of vehicles as it made its way to Kumsusan Memorial Palace. Official North Korean news sources have been declaring Kim Jong Un the "great successor," but questions about the transition and future governance of the volatile, secretive state continue to make foreign governments wary. South Korean intelligence recently indicated that North Korea has tightened security in cities, put troops on alert and won loyalty pledges from top generals after Kim's death as it consolidates power behind the anointed heir. Collected here are images — most of them official North Korean releases — of the public mourning in North Korea.
Photo Credit: The Atlantic
THE SUDDEN PASSING OF KIM JONG-IL from a heart attack, removed a longstanding figure from the balance of power in the Pacific; kept it all the same in another, while completely flipping a valued (relative) predictability on its ear, in yet another. While American forces, the State Department and Western intelligence services all suddenly lost the figure that they've painstakingly focused so much time and effort on, collecting information looking to understand a hidden, cloistered nation, but were still mostly in the dark about, a face who stared at American military power across from the Demilitarized Zone's 38th Paralell for five decades, from a land frozen in time (and atmospherics); they now gain his heir, along with a North Korea now worse off than years' prior and greater uncertainty.
The historic factors of this change are significant, as Kim Jong-Il's successor and youngest son, Kim Jong-un, becomes the country's next leader with far less grooming than his father had, and in a world less stable than the one Kim Jong-Il took the nation's yoke in; way back when the dangers of the world were just comprised mainly of the influence of superpowers. But it is also historic within the context of potential stability: In this crisis for North Korea, there is the slight chance of an opportunity for the West and North Korea to find an alternate path than the one that has been established, even if it is but a small one.
The young Jong-un, a man in his late 20s, inherits this seat of power in one of the very last (ostensibly) communist countries on the planet, and which is suffering from crippling economic stagnation. And perhaps this will practically necessitate an opening of what is known as "The Hermit Kingdom." (North Koreans are already practicing micro forms of capitalism, following the failure of the Soviet Union in the 1990s leading to starvation, as consequence to the elimination of subsidies for the nation.) How and if Jong-un can navigate out of that economic and diplomatic trench created by years of enmity, or if he even has the inkling to, is another question all together, though. He will undoubtably have an old-guard couturier of handlers that he would have to sway his way.
The situation Jong-un assumes leadership of isn't easy, either. In the last couple of years, North Korea has been stricken by famine as a result of flooding in the country soaking its grain crops, and this has killed many North Koreans; a morose flashback to the North Korea of Kim Il-Sung and the 1990′s when torrential rains flooded the area and killed millions of people. It has been precarious in North Korea ever since that time, and Jong-un may be well-served by looking to engage the world, even though China already provides a great deal of help. And he, like many others of visibly anti-Western figures, is evidently somewhat open to the West, in the form of America's soft-power, our culture, much like his father, who reportedly kept a collection of N.B.A. basketball tapes. Jong-un, supposedly, also has an interest in the N.B.A., and particularly Michael Jordan. He was also educated in Switzerland.
Pictures from North Korea and any general, confirmable knowledge about it is somewhat difficult to come by due to its strict rules concerning foreign press. However, the state media broadcast of Kim Jong-Il's funeral were readily available for all the world, as were photographs of the multitude of saddened North Koreans. The Atlantic's In Focus provided some of the best of the lot, covering its circumference with the help of Reuters. View The Atlantic's In Foucs blog's "North Korea Mourns Kim Jong Il" [Here]